After nearly 50 years, daily passenger rail services have returned to Okehampton.
The Dartmoor Line opened on 20 November 2021 and is the first line to be reinstated under the Department for Transport's 'Restoring your Railway' initiative.
After a huge team effort to make the reopening a reality, Network Rail, GWR and partners look forward to welcoming you aboard.
With a journey time of approximately 40 minutes between Okehampton and Exeter, the Dartmoor Line provides great opportunities for work, study and leisure travel.
Initial timetable
There are trains every two hours each way, seven days a week, between Okehampton, Crediton and Exeter St Davids, including services for daily commuters.
More than half of Monday to Friday services call at Exeter Central, including the key peak services. From 12th December, more than half of weekend services will too.
Hourly service in 2022
Additional infrastructure work will take place on the route to enable GWR to increase the service to hourly during 2022.
OKEHAMPTON - EXETER
in approx. 40 minutes
Connecting people & places
Okehampton
Home to Okehampton Castle and the Museum of Dartmoor Life, the town is one of the walking centres of Devon.
Exeter
Exeter is a key hub for the region. The new rail service provides access for education, work, shopping and other opportunities.
Gateway to Dartmoor
Enjoy great Dartmoor walks right from Okehampton station. The station has bike hire too and is at the start of The Granite Way, an 11-mile multi-use trail.
Gateway to Dartmoor
Enjoy great Dartmoor walks right from Okehampton station. The station also has bike hire and is at the start of The Granite Way, an 11-mile multi-use trail.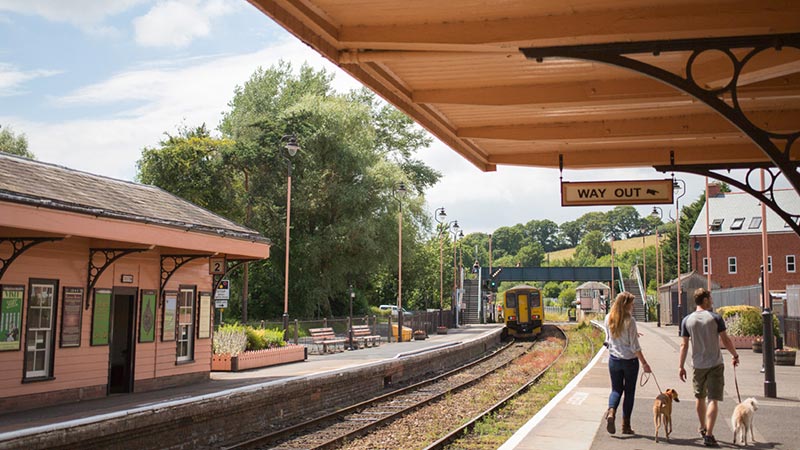 Crediton
All Dartmoor Line trains call at Crediton, providing a new public transport link with Okehampton. Change at Crediton for the Tarka Line to Barnstaple and North Devon. Rail users in Crediton also benefit from more trains into Exeter.
West Devon & North East Cornwall
The Dartmoor Line brings a large area including Hatherleigh, Holsworthy, Launceston and Bude, much nearer the rail network. It also provides a new option for people from Tavistock travelling to Exeter and beyond.
Long-distance travel
A whole host of connections are available to the rest of the country from Exeter St Davids, opening up a wide range of onward travel options.
Okehampton
The station, which is unstaffed, retains its heritage feel while offering modern facilities:
Card-only ticket machine
Information screens and help points
CCTV coverage
Bike parking
Resurfaced and lit Pay and Display car park (£2 all day)
Accessibility
The platform used by GWR services is accessible, with step-free access from the street to the platform. You can book assistance with your journey with Passenger Assist.
Coming in 2022
The main station building is being renovated with a new cafe, Dartmoor National Park visitor centre, community shop, heritage waiting room and toilet facilities, all scheduled to open in 2022.
New stations
There is an aspiration to open a parkway station at the east end of Okehampton in the coming years. A funding bid has been submitted to government.
Other stations
Other stations on the route (such as Sampford Courtenay) are not planned to open under the current scheme.
History
The railway first arrived at Okehampton in 1871 as part of a series of extensions from Exeter into the northwest area of Devon. It later formed part of the Southern Railway network and became a key point for their flagship train 'The Atlantic Coast Express' which would serve such destinations as Plymouth, Bude, Wadebridge and Padstow, direct from London Waterloo.
Railway lines out to these towns were cut back in the 1960s as a result of the Beeching Report. The route to Tavistock and Plymouth closed in 1968. Services continued between Exeter and Okehampton for a few years but were later withdrawn in 1972.
Read more about the history of the line.
Campaign for reopening
Local people have long campaigned for the return of regular year round services between Okehampton and Exeter.
The campaign took a key step forward with the forming of the OkeRail Forum in 2014. An initiative of the County Council, this brought campaigners, council representatives and a range of other interested parties together to work towards reopening.
The popularity of the Summer Sunday trains coupled with the Forum's evidence gathering, data modelling, engagement with the rail franchising process and special trains to London, Stratford-upon-Avon and Weymouth all played a critical role in making the return of daily passenger services a reality.
Read more about the campaign for reopening.
Getting the line ready
Following the confirmation of government funding for the reopening of the line in March 2021, work got underway to upgrade the track between Okehampton and Coleford Junction, where the Dartmoor Line joins the existing railway line to Exeter.
As well as laying new track and sleepers, Network Rail engineers worked day and night on drainage, fencing, preparing the ground for the new railway and much more. Over 11 miles of new track has been laid and 24,000 concrete sleepers installed.
Find out more in our News section.
The Dartmoor Line reopening follows much activity over many years by two local community groups in particular – OkeRail and the Dartmoor Railway Association (DRA).
We recognise the existing station buildings at Okehampton are a valuable community asset and we are committed to working with partners to retain and enhance this facility.
We are working with local stakeholders to reopen the café in 2022, while other sympathetic uses of the station are also being developed.
The DRA's current facilities will be maintained and we are looking to enhance and increase their involvement at the station.
This year is the 150th anniversary of the railway first arriving in Okehampton in 1871. It is also the 70th anniversary of the creation of Dartmoor National Park.
The Dartmoor Line is the first branch line reopened under the government's 'Restoring Your Railway' initiative.
It is the longest line opened for regular passenger services in Devon and Cornwall for nearly 100 years, since the North Devon & Cornwall Junction Railway was opened between Torrington and Halwill in 1925.
The only other line opening in Devon and Cornwall between then and now was a short stretch between Falmouth Town and Falmouth Docks station in 1975.
Keep up to date with developments including the latest photos and videos.
Read the story of rail services to Dartmoor and of Okehampton station, opened in 1871.
How to get in touch with media enquiries.